First Aid For Mental Health
In addition to supporting businesses with training in first aid, manual handling and safeguarding among many courses, Acqua Doria now offers First Aid for Mental Health.
Mental Health in the Workplace Workshop
This interactive and practical session sets out to inspire and equip participants with awareness of the knowledge, attitudes, skills and habits to better manage their workplace mental wellbeing. The session helps participants recognise the signs to look out for and ways that they can help colleagues with mental health issues.
Our sessions are approximately a half day for up to 12 participants.
First Aid for Mental Health Training
Following a comprehensive syllabus, this one day of training and assessment provides your organisation with First Aid for Mental Health qualified people – team members that understand what behaviours to look out for and the knowledge and skills to respond to situations.
For up to 12 at a time, this full-day interactive session requires participants to pass ongoing assessments (practical and oral) to qualify.
To enquire about our First Aid for Mental Health course or the Mental Health in the Workplace Workshop, please call us on 01420 85202 or complete the enquiry form below.
We currently provide these courses in and around Alton, Basingstoke, Chichester, Farnham, Fleet, Guildford, Haslemere, Portsmouth, Southampton and Winchester.
Stuart Withey leads the Training Services for Acqua Doria.
Stuart's career in training began in 1995 and includes time as a Lead Assessor for a City & Guilds validation programme. Joining Acqua Doria in 2009, he took over training our staff in all mandatory healthcare courses and now delivers in house and external training.
Connect with Stuart on LinkedIn.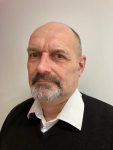 Training was expertly delivered. Great session, very interactive.
We needed to help team better manage their mental well being. It's been a tough few years and we have lost many days to staff suffering with stress. These sessions have helped us better support team.
Ask about a First Aid for Mental Health workshop
Please send us some basic info and we'll get back in touch with you as soon as we can.